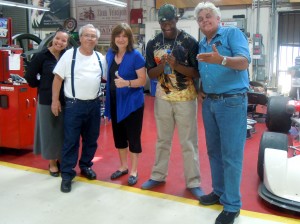 Jay Leno made a special effort to make us all feel like VIP's when he hosted Foster Your Dream at his Big Dog Garage in a secret location in the Los Angeles area!
Surrounded by history, craftsmanship and beautiful cars, we were able to get a sneak peek of Jay's amazing car collection.  Bob Sales told us so many interesting stories and took a real interest in our youth.  Thanks to Gail Stocker and Mavis Leno we had an intro into probably the largest and most important car collection in the world.   Oh and by the way, all the cars can be driven and are treated like royalty themselves.   Thus, no posting on Facebook and no photos published of the collection here!
Our favorite cars? Colin Powell's Volga.  The super fast McClaren.  The Dusenbergs.  The Model T.  Howard Hughes' Lamborghini.  All the touring cars.  But the most fun was when we entered the second building and were told to put our camera's away.  Why?  Because Jay was there working with his guys.  He went over and quietly started up his  1906 Stanley Steamer.  All of a sudden he waved to our Dream Kid to hop on and hang on!  The two of them drove away on a special tour around the neighborhood!  As we FYD folks stood and watched, Jay and our young man took off in a literal cloud of steam.  We were amazed at the generosity of time and spirit that Mr. Leno afforded us.    Thank you so much to Mavis, Gail, Bernard, Jim, Bob and most of all, Jay!