SWAMP JUICE…what's that?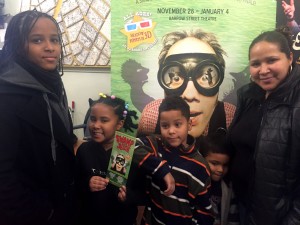 Our Dream Kids got invited to a very fun and unique puppet show at the Barrow Street Theatre in Greenwich Village, New York! It was silly and funny and colorful and creative and it had an eye-popping 3-D grand finale!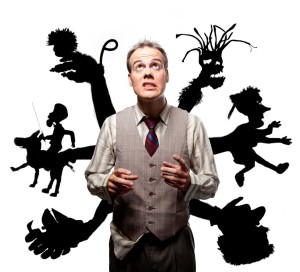 Using Indonesian shadow puppets made from found objects, Jeff Achtem created a magical journey that inspired our kids to use their imagination and say 'ooooo' a lot!
We had some challenges getting the families to the theatre during bad weather and the Thanksgiving Holiday, but the Barrow Theatre staff helped us by being patient and understanding.  Foster Your Dream continues to create opportunities thanks to people like Victoria and Amy who understood that the families who DID show up had the BEST TIME EVER!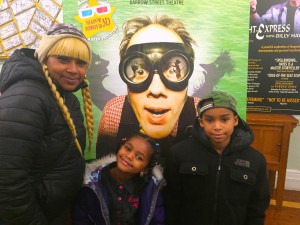 We even had fun BEFORE the show began when two young and excited FYD theatre patrons enthusiastically handed out SWAMP JUICE flyers so everyone would feel as excited and welcome as they did!  Who do you think had more fun?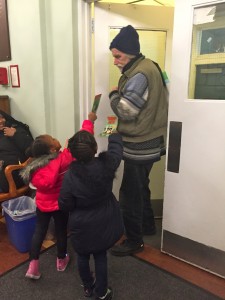 The Givers?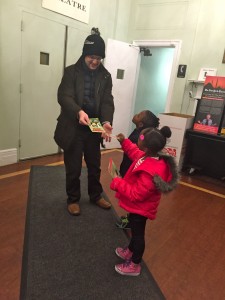 Or the Receivers?
From the reactions of the other patrons, I believe it was "even-steven!"
The pure joy that we had thanks to Barrow Street Theatre's kind help, is forever.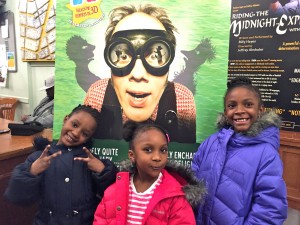 This is why we bust our cookies to get theatre experiences for Foster Your Dream.  You can take away everything from a child, but you can not take away FUN MEMORIES.