SpongeBob SquarePants, Head Over Heels and Choir Boy invited us to join them for their shows and then for a magical backstage tour!
Brooke Smith arranged for Lou Castro the assistant Choreographer of Sponge Bob Square Pants to give us an in depth look at all the amazing things backstage at the Palace Theatre! He showed up props, wardrobe and al the fantastical technology!
  HEAD OVER HEELS producers Sarahbeth Grossman, who has been a supporter of Foster Your Dream kids for the past 10 years, took us to their green room and introduced us to producer Julie Boardman.  We were allowed to ask questions and feel like a VIP!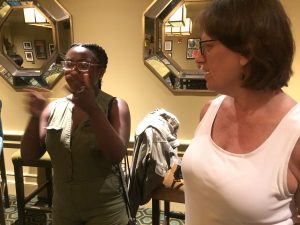 As usual, I can only show emancipated foster children who are OK with our taking their photo or with guardian consent.  That's why you tend to see the same few kids … they are the ones who are enamored by all things THEATRE!  The one below has a particular connection to theatre and FYD's mentorship has been sort of like a rag-tag theatre fellowship.  So enjoy her joy!